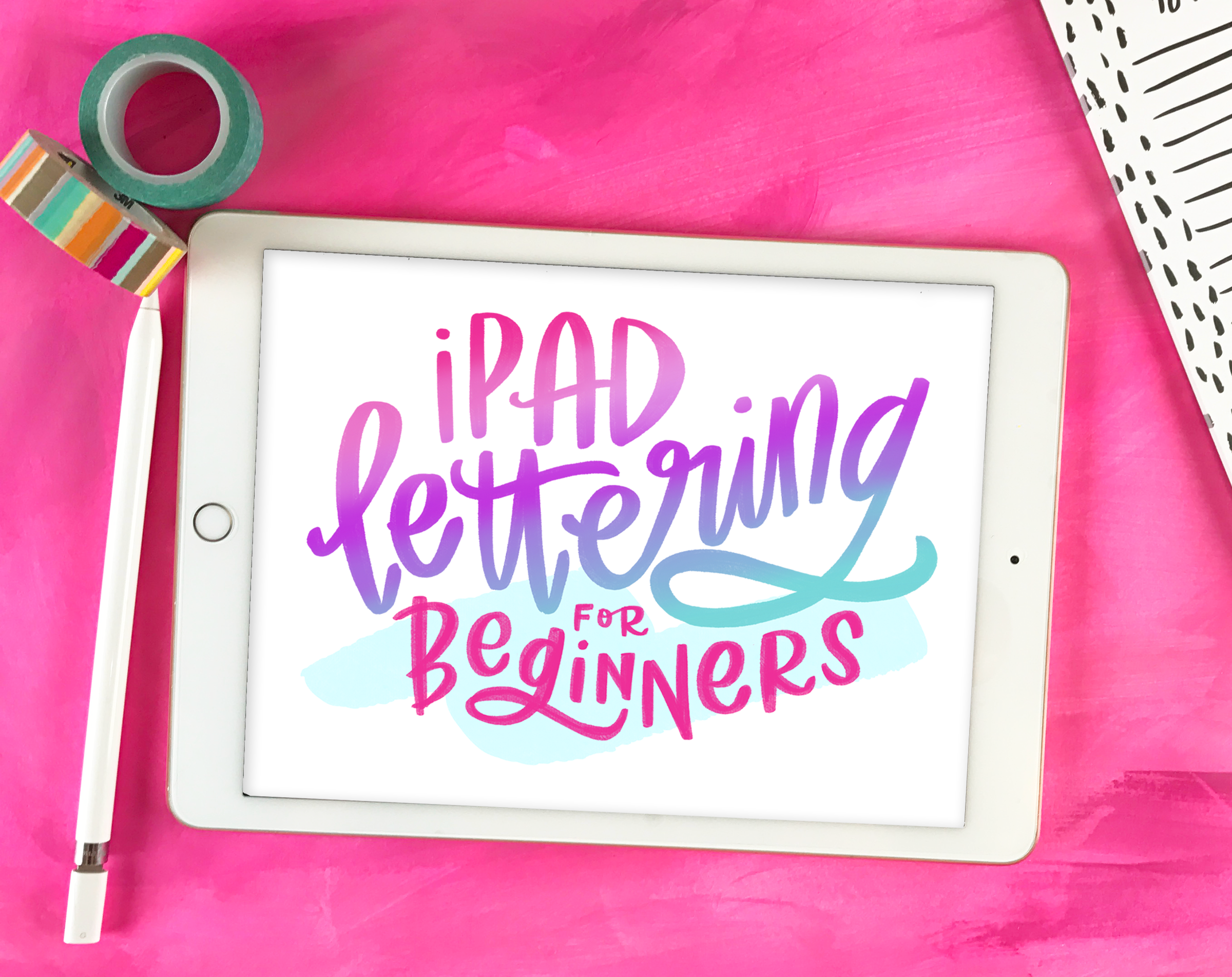 A step-by-step iPad lettering course created just for beginners!
Have fun learning the basics of these skills: iPad Pro lettering, Apple Pencil lettering and Procreate app lettering!
Take your lettering game to a WHOLE new level with your iPad! You may have seen the incredible things that the iPad Pro and Apple Pencil can do, but you may also be wondering... How in the world can I do that? With this course, I show you how!
You won't BELIEVE the effects, textures, and details you'll have the ability to create using this course...
From sketch to finished piece...
this iPad lettering course will show you everything you need to know about the Procreate app and more!
Let me teach you how!
lesson one:
Course Overview &
What You'll Need
We'll go over what you can expect in the course, what tools you'll need (especially if you're using an older iPad), and how the course is structured.
This lesson ALONE is worth the $45 cost of this course! It includes 9 in-depth videos teaching you EVERYTHING you need to know about the Procreate app and how you can combine its many powerful features to create endless lettering possibilities! The videos cover:
Intro To Procreate App: Gallery & Canvas Interface
Using Procreate: Actions & Gestures
Basics of Procreate Brushes: Paint, Smudge & Erase
My Favorite Procreate Brushes
Importing Custom Procreate Brushes
Using Procreate: Color
Using Procreate: Layers
Using Procreate: Image Adjustments
Using Procreate: Selection & Transform
Lesson Two:
The Complete Guide To Using the Procreate App
Procreate is the most powerful digital art app I've ever encountered, and the possibilities you can create with it are endless. This lesson will walk you through all the features of the app (including hidden gestures and shortcuts) so you will have a powerful art studio you can take anywhere!
LESSON THREE:

Let's Start Lettering!
The Basic Techniques
Once you know everything Procreate can do, in this lesson I walk you through the process of using those features to create a basic hand-lettered piece:
Then we go even further and I show you techniques for adding highlights, shadows and other details. I also take you step-by-step through how to add textures and images to your lettering for amazing effects like gold foil, glitter and airbrushed gradients.
LESSON FOUR:
3d Lettering Techniques
Kick your lettering skills up a notch by learning how to add depth and dimension to your lettering pieces. You'll learn how to add lettering to 3D environments and how to give off the illusion your letters are wrapping around one another.
LESSON FIVE:

Your Class Project: Creating An iPad Lettering Instagram Quote
Finally, to put everything you've learned into practice, in the final lesson I issue you a challenge: create your own iPad lettering Instagram quote!
ALL the iPad lettering bonus cheat sheets!
My Favorite Custom Procreate Brushes, Procreate Shortcuts & Gestures, and a Guide To Procreate's Advanced Brush Features
These are all of the resources I wish I had when I was first learning to use my iPad for hand-lettering: get a quick cheat sheet of all the gesture shortcuts within Procreate; definitions/explanations of all the advanced brush settings (to help you create your own brushes!); and links to my favorite custom Procreate brushes!
IPAD LETTERING FOR BEGINNERS COURSE:
you get:
Access to the iPad Lettering for Beginners online course
15 step-by-step videos in 5 lessons teaching you the ENTIRE Procreate app, plus how to use its features to create amazing lettering effects
3 cheat sheets including: My Favorite Custom Procreate Brushes, Procreate Shortcuts & Gestures, and a Guide To Procreate's Advanced Brush Features
Other resources like my favorite free images and textures for gold foil effects, glitter, and grid paper for sketching!
LIFETIME access on desktop, tablet, or mobile devices
OR GET THE
LETTERING BUNDLE:
iPad Lettering for Beginners &
Better Lettering Course
YOU GET:
Access to the iPad Lettering for Beginners online course
Access to the basic intro to lettering course, Better Lettering Course
34 TOTAL videos with step-by-step instruction on the basics of lettering and iPad Lettering
3 iPad Lettering cheat sheets
LIFETIME access to both courses on desktop, table, or mobile devices.
Preview one of the course lessons here:
What do I need to take this course?
The ideal set of tools for this iPad lettering course are: an iPad Pro + an Apple Pencil + the Procreate iPad app. Procreate is my favorite digital art app and it was created specifically to work with the latest technology available in the iPad Pro and the Apple Pencil, especially the pressure dynamics.
What if I have an older iPad?
If you are using an older iPad, iPad Air or don't have an Apple Pencil — don't panic! You can still totally take advantage of and enjoy this course! If you have an older iPad, you won't be able to use an Apple Pencil (it's created to work exclusively with the iPad Pro) BUT you can use a different brand of stylus.
To read more about what stylus options will still connect with the Procreate app, check out the list here. This will allow you to still take advantage of most of the features I'll go over in the course. And… if all else fails, you can actually use your finger to create beautiful lettering! I know, it sound crazy, but thanks to a few smoothing features I'll show you inside the app, you can take that shakey index finger and turn it into the perfect lettering stylus!
Do I need any programs to take this course?
You will need to purchase the Procreate app from the app store once you get into the course. The app is $5.99 but I can assure you — it is worth EVERY penny. It's an incredibly powerful piece of software that will give you a mobile art studio wherever you go!
What if I don't have any experience with hand-lettering?
That's okay! I take you through the process of creating hand-lettering step-by-step inside the course, and I think you'll actually find that lettering on the iPad is even easier than sketching with a pencil and paper because of some hidden smoothing features I'll show you inside the course. ;) Also, keep in mind you can use the techniques I teach in this class not only for lettering but for drawing, doodling and digital painting!
I'm an artist, designer, hand-letterer, and happiness hunter with a passion for helping creative entrepreneurs become their best, most vibrant selves. I create affordable, relatable resources teaching creativity, business and personal growth over at Made Vibrant, and I share personal stories and insights on my blog about my own journey to living my brightest, most creative life.
I've taught lettering workshops at events like Camp Good Life Project, and I've been commissioned to create hand-lettered art for various projects including book covers, apparel, branding, and event posters.
I truly believe that iPad Lettering is the FUTURE of hand-lettering.
Now is the perfect time to start learning, perfecting your process, and enjoying the benefits of this amazing technology!